Quality Roofing's Steve Lopez Uses Unique Life Experience to Mentor New Hires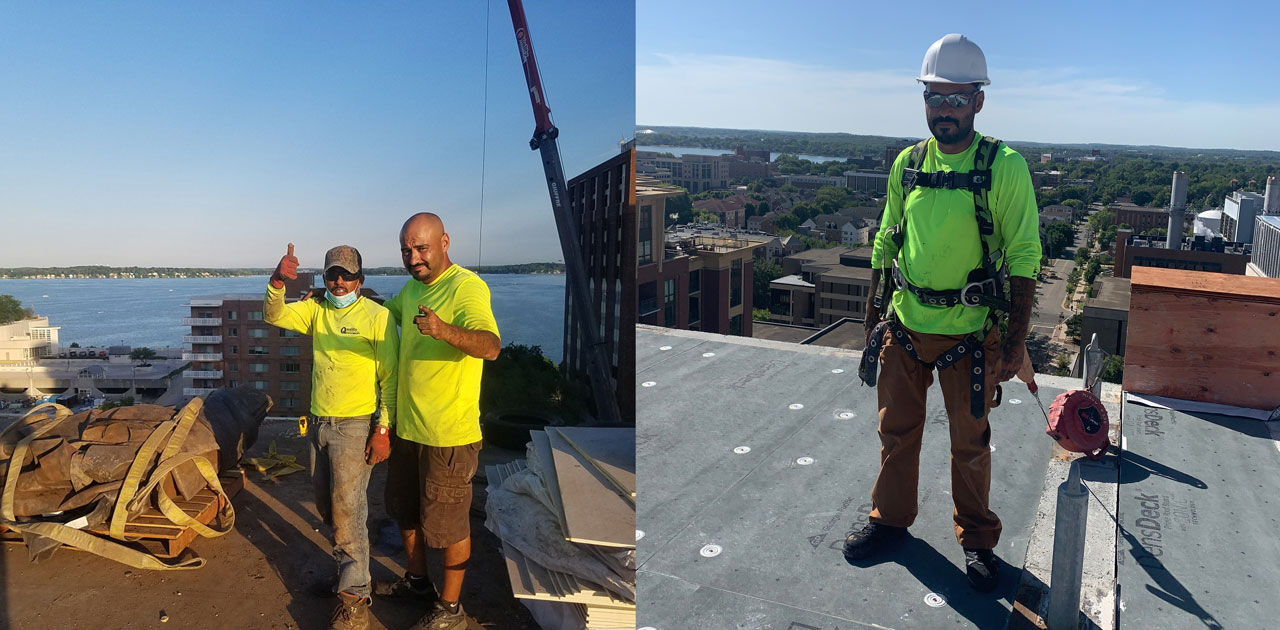 Lopez Shares Experience Working for Quality Roofing
Starting a new job can be a daunting task, which is why having someone to help navigate the tasks and expectations involved can be helpful. At Quality Roofing in Marshfield, Steve Lopez has undertaken the role of mentor to many new hires.
Now with the official title of Translator/Foreman/Trainer, Lopez entered the roofing business at 40 years-old after years working in store management positions. When he was laid off during the pandemic, his brother recommended applying at Quality.
Prior to working at Quality, Lopez -who is terrified of heights- wouldn't even climb ladders to clean his garage gutters. His first day on the job, he had to climb 15 stories to work on the UW-Madison Chemistry building.
"It was horrible at first. I puked the first day. I was shaking," he said. "They were patient and helped me a lot. Told me to sit down, relax, take my time. I got over it and now I'm pretty good at it. I got over my fears."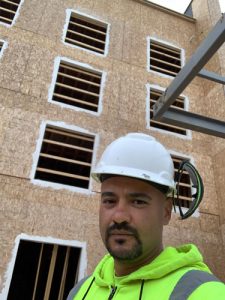 Also no stranger to health issues, Lopez wasn't sure if his body would be fit for a job in roofing. Thankfully, he learned that Quality is willing to accommodate anyone's situation. He also realized that the company culture and rewarding work was unparalleled and the job was a great fit.
Lopez now helps other new hires acclimate to their role, specializing in helping Spanish-speaking applicants to excel. Lopez also drives those without a license to job sites and helps them with any bilingual paperwork needs.
During his time at Quality, Lopez has had the opportunity to travel for different projects – something he has enjoyed immensely.
"Prior to working here, I had never left Marshfield that much, but now I've been to so many different places," he said. "They pay for lodging and gas 100%."
Lopez especially enjoyed working on the Wisconsin State Capitol building last year, along with Madison County Jail, University of Wisconsin buildings, and NTC, among others.
"Now I can tell my kids, 'You know who did that roof there?'," he said.
Lopez speaks highly of Quality Roofing and its leadership, and recommends anyone seeking rewarding employment to join the team.
"Pat and Mark [Begotka] and the bosses are awesome people. They are understanding, patient, go out of their way to understand you. It's like my second family here," he said. "They have an open door policy. They are very understanding of any circumstance. They don't judge people. They actually go out of their way to help you. You can talk to them about whatever you want."
Though starting a new job can be overwhelming, Lopez encourages patience and grace.
"The job can be difficult at first, but once you catch on you learn quick. It gets easier and easier and now I wish I would have done this work sooner," he said. "There's nothing that you can do that we can't fix."
He added that safety is paramount, something else he values.
"Safety is our number one issue out here," said Lopez. "Safety monitors keep an eye on people. We look out for each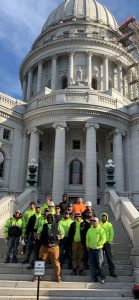 other. On hot days, Pat and Mark call me and ask if we are hydrated. They really really care about their employee's health and safety."
Currently, Quality Roofing is seeking workers at both their Menomonie and Marshfield locations.
"It's a great company to work for, great benefits, awesome traveling, paid training," he said. "I wish I would have done this years ago. This company is badass. Give us a try and you won't regret it."
Apply today at www.QRoof.com/Careers
Lopez wishes to thank foremen Shawn Doane, Aaron Kurschner, Dave Shuge, Cory Rogowski and Paul Ritter, Operations/Safety boss Kyle Schultz, and training foreman Mario Arcos for helping him get where he is today. Also special thanks to Mike Weber, who "had the patience to teach and train, took time one-on-one, and showed me how to put my harness on." Also, Jose Lopez, Greg, Tizzy, and Jr, along with Kyle Dorsey who passed away this year.