QUALITY ROOFING HELPS WISCONSIN COMMUNITY GO GREEN WITH SOLAR ROOFING PANELS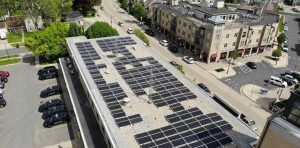 Marshfield, WI (OnFocus) Local business Quality Roofing is helping one community in Wisconsin go green and save money, thanks to the installation of solar roofing panels.
Last year, Quality Roofing worked alongside SunVest Solar and KONTEXT Architects as they redeveloped Sun Prairie City Hall. As the general prime contractor, Quality's job was to oversee the roofing portion of the project.
Lucas Kramer, project manager and estimator, and a team of 10-15 people from Quality Roofing worked on the project from start to finish.
"We've worked with other solar panel contractors but not as a prime contractor," he said. "It was also our first time working with SunVest. We didn't install the solar panels but we tied them into the roofing that we installed."
Quality Roofing also was responsible for protecting the roof and creating a safe environment for workers.
"There was another part of this job that was kind of unique — the vegetative roof, or 'green roof' as it's sometimes called," added Kramer. "We installed the green roof system, which has a vegetative media installed. Around the same time, we were installing a similar vegetative roof in Stevens Point. Those were our first two projects of that kind and we look forward to doing more in the future."
The roof systems were installed over the course of a couple summer months and the crew returned the following spring to install the vegetative media, which wasn't yet mature enough to have survived the winter.
"Every job has its unique challenges. It's always interesting," said Kramer. "This project was right downtown, so access was a challenge sometimes and we had to work around the police department, which was connected to the building. The City was great to work with. They all were very accommodating."
Quality Roofing is proud to help provide positive environmental benefits and significant cost-savings for the City of Sun Prairie.
"It's great to be an integral part of unique projects such as the one in Sun Prairie," said Pat Begotka, owner of Quality Roofing. "I'm really proud of the team's efforts and to see our company succeed with challenging projects like this one."
WPPI awarded a grant to the City of Sun Prairie to install 240 solar panels to help offset the City's building operating costs. Since being installed in December 2018, the new system has so far generated enough power to offset more than 2,700 pounds of CO2 emissions — the equivalent of planting 67 trees.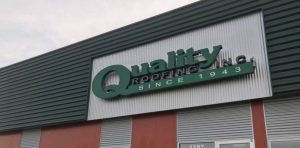 Estimates reveal that the solar installation will generate between 88,000 and 96,000 kWhs per year, which is about one-sixth of the building's annual average energy usage. In about ten years, the $143,000 investment (half of which was grant-funded) is expected to pay for itself in savings, with the solar panels having a lifespan of 25 years.
Quality Roofing has been a locally-owned business since 1943, and was recently awarded Marshfield Area Chamber of Commerce & Industry's Firm of the Year.