Aaron Kurschner Newest Graduate of ABC Apprenticeship Program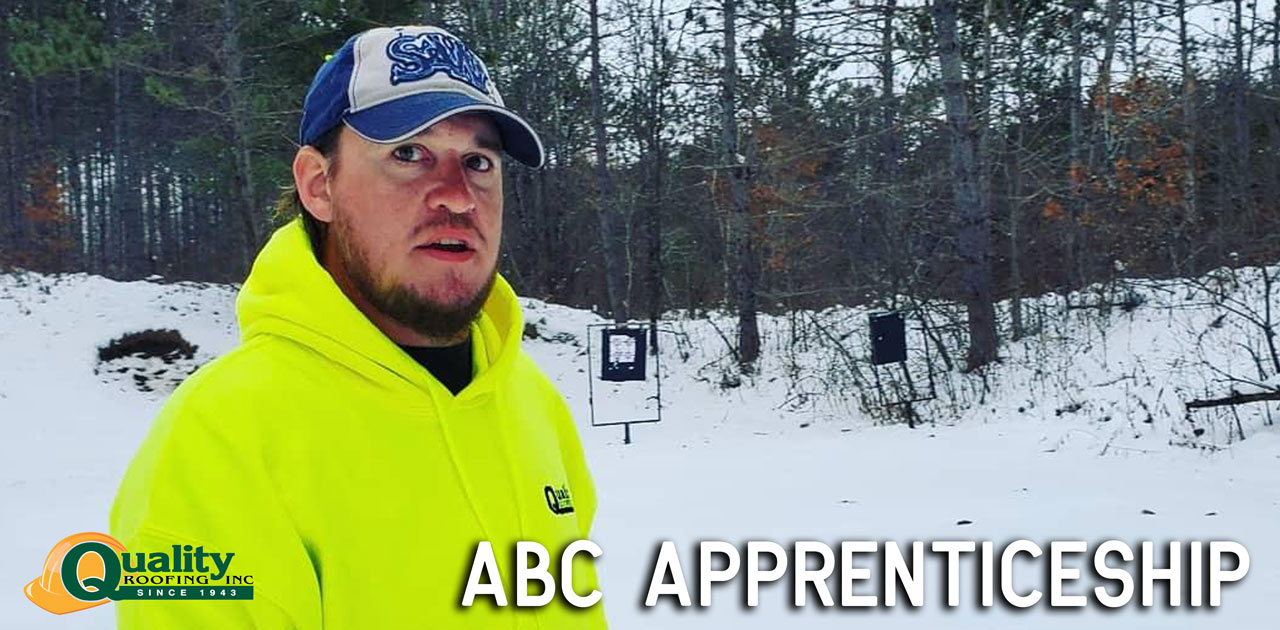 Quality Roofing's Aaron Kurschner will soon be the newest graduate of the Associated Builders and Contractors (ABC) Apprenticeship program, an in-depth program that combines structured, on-the-job training with classroom instruction. Apprenticeship provides an opportunity for inexperienced individuals to enter careers that require experience. Participants are paid while they learn, even while they attend class.
"I was ready for something better and different," said Kurschner, who had worked for ten years at Jennie-O Turkey Store. "I saw an opening at QRI. I applied and got the job."
Along with enjoying the work at QRI and being outside, Kurschner valued the new experience as a great step in his career.
"QRI spoke to me about the apprenticeship and I thought it was a great opportunity and would be a great experience," he said. "QRI has paved my way for learning so many new things: techniques, different types of rubber, and different jobs. I would recommend anyone to become a roofer and to experience the new things we learn."
Kurschner was enrolled in the apprenticeship for three years, during which time he attended in-classroom and on-the-job instruction.
"It was only three weeks a year, but in those weeks, I learned a lot from the instructors," he said. "In those three years, my classmates and I learned how to shingle a roof and we were taught how to do a hot tar roof. We also learned how to do some minor carpentry work. We built a mock-up pitched roof and shingled it. That was a great experience."
The class also had the unique opportunity to tour the Firestone plant and witness how insulation was made. Safety was also an important focus of the apprenticeship.
"The instructors went through a lot of safety courses," said Kurschner. "We had OSHA 10 training and we also went to ABC's yearly safety conference every year. We went to different presentations covering anything from ladder safety to active shooter training. It was very interesting."
He recommends anyone that has the opportunity to complete the ABC Apprenticeship to do so, and for those seeking a rewarding career to consider Quality Roofing, Inc.
"It was all around a great learning experience," he said.