QUALITY ROOFING PREPARES 1,700 COPPER PANELS FOR STATE CAPITOL ROOF
OnFocus – Aaron Wolf has worked for Quality Roofing for just over three years, and in that time has been involved in a variety of projects. His latest project involves preparing the copper flat lock panels for the
Wisconsin State Capitol roof
.
"
The copper comes in 4'x10', 20 oz sheets," explained Wolf. "Then, we cut it down to size and pre-tin all four sides before bending the hems on the panel. In the roof, these get locked together and soldered together."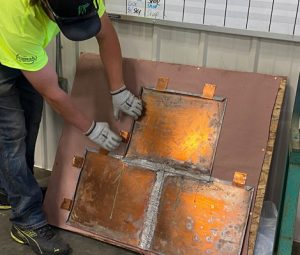 By the time he is finished, Wolf will have made 1,700 panels for eight different roof areas.
"
We have made flat lock panels before, just never out of copper with this process of pre-tinning and soldering for instillation," he said.
"
Copper roofing is beneficial because it last up to 50+ years before needing to be replaced."
"
It's pretty awesome being a part of a project like this and learning new ways to make roofing panels especially knowing our work is going on the State Capitol," he said. 
To learn more about a career at Quality Roofing, visit
www.QRoof.com
!