LUCAS KRAMER CELEBRATES 10 YEARS WITH QUALITY ROOFING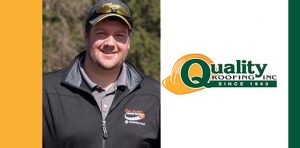 As a family-owned business and MACCI's 2020 Firm of the Year, Quality is proud to celebrate their employees' milestones. Lucas Kramer, Project Manager/Estimator, is celebrating his ten-year work anniversary at Quality Roofing Inc and recently reflected on his first decade with the local company.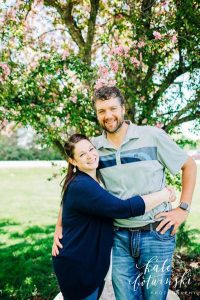 "Lucas brings excellence to his many roles at Quality, especially in recognizing customer needs," said owners Mark and Pat Begotka. "It's been fun to watch his personal, family, and career achievements over the last 10 years. He has a lot to be proud of!"
With some construction background through high school and college, Kramer felt a job at Quality Roofing would be a good fit."I also took classes for a certificate in leadership and I really liked the idea of leading a team with the help of the foreman to complete projects, and in this job that is an everyday occurrence," he said.
After starting out with an entry-level position in the office handling safety duties, pre-construction procedures, and various other clerical duties, he was also attending various training seminars throughout Wisconsin, Illinois, and Indiana to become educated on Quality Roofing's common materials and processes.
"I also spent a lot of time early on working with crews on job sites to become familiar with the everyday activities as well," said Kramer.
After that entry-level position, he progressed to some small project management while still continuing with safety duties, and ultimately moved into his current role as Project Manager/Estimator.
"I have worked on a lot of projects with a lot of great customers, but the ones that are fun to share and talk about are the 'high profile ones' like the Kohl Center, State Capitol, and Lambeau Field – just to name a few," he said.
Kramer enjoys being able to meet new people customers and relate with them.
"I enjoy growing a working relationship with customers and meeting or exceeding their expectations to the best of my abilities," he said. "I enjoy working as a team with a crew of employees and accomplishing goals and jumping hurdles to complete a good quality product."
He also enjoys the challenges that come with the job.
"I am a really competitive person, and I think by having that attitude has helped me grow with Quality Roofing throughout the last 10 years," he said. "I really enjoy seeing the support from the top down within Quality Roofing. It makes me really proud to continue working here for many more years."
For anyone thinking about a career at Quality Roofing, Kramer encourages them to embrace the challenges, enjoy the friendships created along the way, and be proud of the accomplishments.
"I am very proud to represent Quality Roofing every day," he said. "Working here has helped me grow into the person I am today, and I can honestly say that I wouldn't change a thing."